What makes Wayanad in Kerala a popular tourist destination?
Which places must have on wayanad trip plan?
Wayanad trip plan makes you happy and fresh while you are searching hills, plantations, and nature.
Wayanad is the district in the north-east of Kerala state. It is placed on top of the Western Ghats with altitudes ranging from 700 to 2100.  There is 3 hours drive from Calicut airport.
Wayanad has three municipal towns. These are Kalpetta, Mananthavady and Sulthan Bathery. It is the mountain area in Kerala. It is bordered with Tamil Nadu and Karnataka states.
Places to visit Around Wayanad:-
Wildlife Sanctuaries:
The Muthanga wildlife sanctuary is the extension of the narghole and bandipur forests. The drive from the bandipur forests to Wayanad is the beautiful ride for the nature lovers. You can see many wildlife animals. There are wild elephants, deer, bison, monkeys and flora and fauna which are very distinct.
Trekking:
The Trekking is the best way to see the beautiful spots in Wayanad. You can go on many spots through trekking.
Chembra Peak:
The chembra Park is the satisfying trekking trails in Wayanad. It is 2100 meters high from Wayanad.
Pakshipathalam:
This is the best place for bird lovers. It is one of the most special scenes in Wayanad. Pakshipathalam is at an altitude of 1740 meters.
Banasura hill:
It is the second highest peak in Wayanad. From its top, you can have bird's eye views of a breath-taking landscape that stretches for miles and miles in every direction.
Edakkal Caves:
These caves are 25 km away from Kalpetta which shows nature's skill and philosophy on architecture.  These are located 1200 m above the sea level on Ambukutty Mala. At this spot, you can see a cave found by a heavy boulder straddling a fissure in a rock.
Kuruva Island (Kuruvadweep):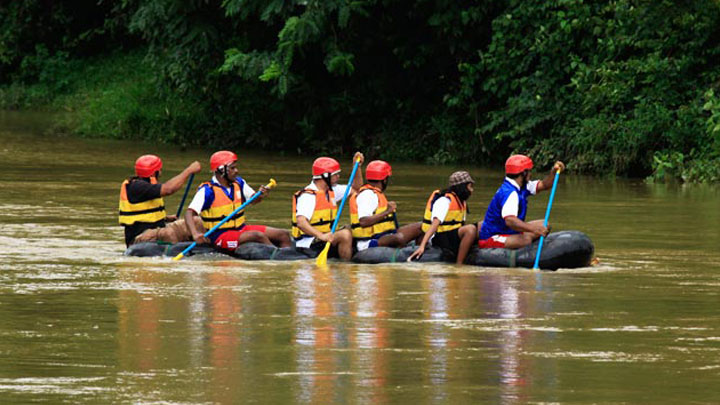 Kuruva Island is the protected river delta. It comprises of islands over the middle of Kabini River in Wayanad. It is populated with rich flora and fauna. When you come much closer to nature, you feeling Kuruva Island as a gift of nature to Wayanad.
Brahmagiri hill:
It is the wonderful scenic view in Wayanad. The trek on the brahmagiri slope is the most enjoyable moment. The slope can get quite steep towards the top of the hill. It is the only peak that is higher than the brahmagiri top is that of chembra peak and you can view it once you reach the top.